Shoda Techtron has always stepped ahead of the technology.
Our products have been engineered tooffer precision and greater efficiency
to those directly involved manufacturing process for better benefit and
we believe that this has been our role .

We have found ourselves repeating it again over the years as we seek to answer
the satisfaction of our customers and we take it seriously.

Masahiro Shoda , President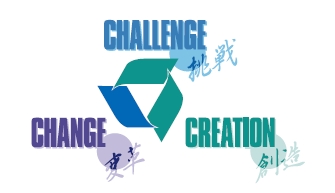 Change,Challenge,and Creation
The policy of Shoda Techtron is "3 Cs", which guide us to high quality, speed, and originality.
Our company logo is "3 Cs" linking each other, setting forward to further stage of evolution.


CHANGE
Discoveries are not made by living in the past. Previous success or failure may have little bearing on. Because with change comes growth.
CHALLENGE
Shoda Techtron does not set limites on its range of product development.

We follow demand and accept new challenges. Never satisfied existing achievements,

we continue to look ahead.
CREATION
As a leader in manufacturing eqipment, we should be responsible to comprehend the changing needs

of the market so as to be able to respond to them with creativity and reliability.
(Basic Policy)
We will challenge the changes both internal and external creatively and achieve the growth. In any circumstances;
Customer satisfaction is our first priority and we provide high and stable quality any time.
We produce environmental-friendly products and take an action in a way which preserves the environment.
(Policy)
We provide products whose quality is trusted by customers. We also build a management system which allows us to lower the burden on the environment.
We will continuously make an improvement on the effectiveness of the management system.
We follow the agreement made by this industry and regulatory requirements.
We set the standard for products' quality and deadline. We will do cost saving, energy conservation, reduction of industrial waste, recycles and the reduction of the use of toxic chemical substances.